England's Gemma Clews clinched her first LET Access Series (LETAS) victory in dramatic style with a playoff victory at the Smorum Ladies Open by EC Drive.
Trailing by five shots prior to the third and final round, the 28-year-old had a strong final round of 68 (-4) and a faultless back-nine of three birdies and all pars to take Sweden's Corrinne Viden and Nathalie Borg to sudden death.
The sudden death was short-lived as Borg found trouble in the trees off the tee and Viden fell to a bogey.
Clews, looking the most collected and calm, had two putts for victory as she rolled in the second from close range to seal the deal and lift her second professional title- her first since 2021.
"I'm feeling amazing. It's great to get a win. Obviously, it's the first LET Access win, which is nice, and it feels good.
"In the playoff I tried to stick to what I've done the last couple of days. It's a special 18th hole because you can hit the driver at the green or you can lay up and wedge it on.
"I made birdie on it in the final round so I knew I was going to stick to it, commit and try and make a birdie."
Clews was accompanied by fellow England LETAS player Sharna Dutrieux on the bag today after she had to withdraw from the tournament at the beginning of the week due to injury.
"Massive shout out to Sharna on the bag today, she kept me calm and relaxed, and it was great to have someone to chat to all day. So, thank you."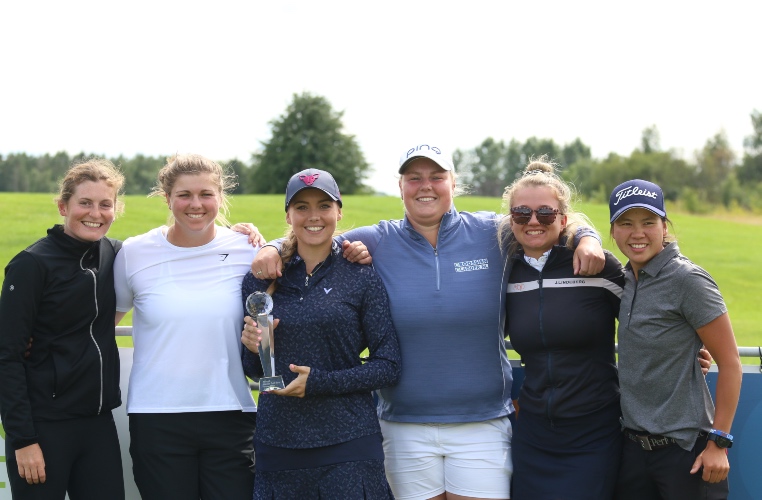 Clews missed out on the win at the Amundi Czech Ladies Challenge by one shot so this win means even more.
After this win, Clews has gained 500 points on the LETAS Order of Merit and now currently ranks second with 994.10 points.
Speaking about how much this win means, Clews said: "Any win at any point in the season is big because you can get so many points from it. It's nice to get this in the middle of the season.
"I will use this win as confidence and momentum for the next few events.
"Sadly, I'm flying home tonight, a late-night flight back to Manchester. So, I will just celebrate with friends and family, go out for dinner- nothing too mad."
With Viden and Borg taking second, Denmark's Sofie Kibsgaard Nielsen became the highest-ranking Dane in fourth on five-under-par.
Behind her, Danish amateur Marie Madsen had a great first professional tournament to come fifth with cards of 65, 70 and 71.
Australia's Kristalle Blum, the Netherland's Zhen Bontan and Danish Amateur Olivia Gronberg came joint sixth on three-under-par.
Rounding out the top-10, Germany's Carolin Kauffmann and Danish amateurs Natacha Host Husted and Victoria Kristensen came ninth on two-under par.
The LET Access Series now moves next door to Sweden for the Big Green Egg Swedish Open at Varbergs Golf Klubb commencing on the 9th of August.
Follow all the action on @letaccess on Twitter and TikTok and LET Access Series on Facebook – #RaiseOurGame.