Denmark's Fie Olsen came from behind on a highly anticipated final day at the Flumserberg Ladies Open to win by three points over fellow Dane Sofie Kibsgaard Nielsen.
Kibsgaard Nielsen scored one and a half points in the final round to finish as the runner-up for the second time this season after she lost out on the win in a five-way play off at the Santander Golf Tour-Girona.
Behind Kibsgaard Nielsen, 2019 champion and leader after the first two days of stroke play, Elena Moosmann ended third with one point.
"I feel super excited," a tearful Olsen said, "I honestly can't wait to text my family and call my brother. I'm super excited to go out tonight, have some drinks and have some fun to celebrate."
Starting the last day in third position after two days of stroke play, the first time LET Access Series (LETAS) winner overcame the heavy rain to clinch the win.
Olsen paved her way to the final on the last day after beating England's Thalia Martin 2 UP in the first nine-hole round of match play and Norway's Tina Mazarino 2 UP in the second round of match play.
"The final was wet. My caddy was so clever and said to me that they should go get an umbrella, but I was like, no, it will rain for two minutes. I was wrong," Olsen said.
"I'm soaking wet, my caddie had no rain pants, but it was all worth it."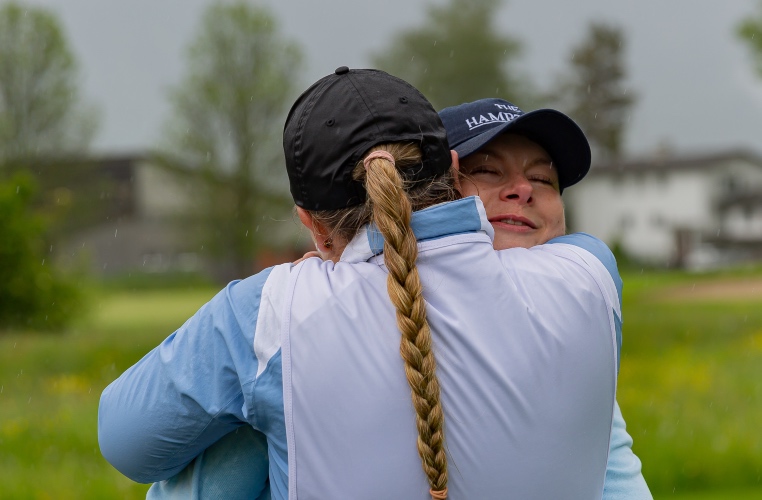 The 24-year-old has had three top 10 finishes on LETAS with her best finish previously being at the Flumserberg Ladies Open last year where she finished in tied sixth position.
"I was not expecting the win today, I came in as an underdog.
"I don't even know where to begin but match play is something I really love.
"I like that even if you have a bad hole, you can keep moving and you don't have to play every stroke like stroke play.
"I guessed if I ever won a tournament, it would be a match play tournament."
The Flumserberg Ladies Open celebrated its 10th anniversary with a unique format called the Mätzler Mix named after its co-founders Melanie and Guido Mätzler.
The tournament saw 36-holes of stroke play during the first two days and three nine-hole rounds of match play on Sunday.