Elia Folch and Clara Moyano Reigosa are two of the 15 Spanish players teeing it up in their home country at the first LETAS tournament of the season- Santander Golf Tour- GIRONA.
This week sees the season opener at Golf Club Peralada from the 1st – 3rd March.
Elia Folch is excited to start her 2023 season on a course she knows well as she looks to build back confidence from the disappointments of last season.
The Spaniard will be teeing up at Golf Club Peralada for the very first time as a professional – a course she loved as an amateur.
"I have played the course before," she admitted. "I played the course many times when I was an amateur. As a pro I haven't. I'm so excited to play here this week.
"Playing here before, means I don't feel too much pressure, just excitement, I'm really excited to get started."
"The weather conditions are very windy and pretty cold but the course conditions are pretty good especially the green speeds."
Folch played 23 LET events last season after securing her card coming top-15 in Q-School in 2021 but she is excited to start her 2023 season on LETAS.
"I'm always happy to play on LETAS, it's always familiar and cosy, it's a great atmosphere.
"My goal for the season is to get my status back on tour so hopefully that will happen.
"Last year, I had a better status on tour so I'm hoping to try and learn from the mistakes I made and grow my game and get my confidence back."
Meanwhile, Clara Moyano Reigosa is rife with confidence for her 2023 season on LETAS after a long off- season.
Reigosa has made some changes to her focus and has been working hard ahead of her season-opener.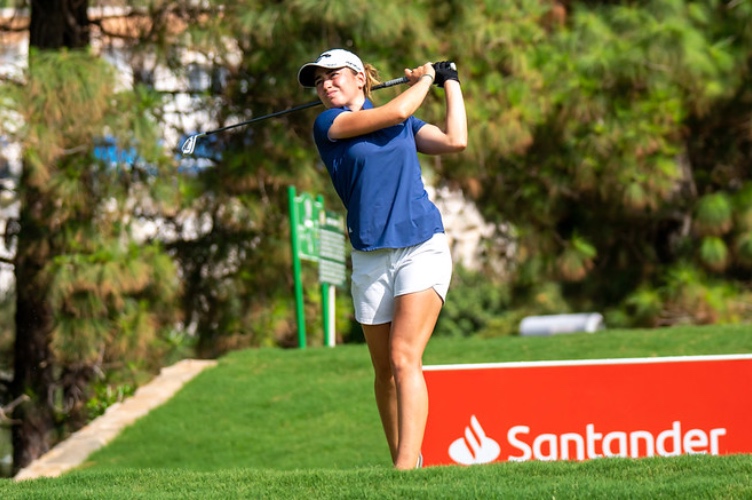 "I'm excited about the start of the season because I haven't played since Q school, I'm not nervous right now." she said.
"I'm excited to see what the year has for me, I will plan to take one week at a time and will see how things go.
"I am optimistic about the season as I have been doing the work.
"I made a few decisions last year to be more focussed on this year and the long term so I'm excited to see where those decisions take me.
"I know what I need to do to make the top-6 and get LET status.
"I'm going to try and not lose focus more, that was my issue last year.
"Obviously the off season was longer, more than my previous years when I played as an amateur so I had the time to put in a lot of work and make a lot of changes."
The Spaniard has played the course before at the Santander Golf Tour Peralada doubles competition but fears the double act of higher wind speeds and a longer course will make play more difficult.
"I came here last year to play the Santander Tour doubles tournament and it's been made quite a bit longer compared to last year.
"Course conditions are a little better, however it's way colder and windier than last year, we got here in November and we were wearing shorts.
"It's a good challenge for the first tournament of the year and the greens are rolling pretty good."
Follow all the action on @letaccess on Instagram, TikTok and @LETAccess on Twitter and LET Access Series on Facebook – #RaiseOurGame #SantanderGolfTour