Alison Muirhead turned professional in January 2020 and two days later headed into LET Pre-Qualifying at La Manga Club, which she went on to win.
The Scot continued her momentum and secured her card with a third-place finish at LET Final Qualifying; she went on to make seven cuts from ten events in 2020.
Ahead of the 2021 season we caught up with Alison and asked about playing in Scotland, her amateur career, Q School and much more.
Hometown: Dubai
Home Course: Jumeirah Golf Estates
Age: 22
Started Golf: 7-Years-Old
School: High School
Turned pro: 2020
Handicap: +3
I just started to fall in love with it. My mum and dad played golf, but my dad when I was very young in South Africa took me to a driving range and he said I was being a naughty, obnoxious child. I didn't want to use a wedge and used a driver instead, and I happened to hit it very long for the size I was. I found it more enjoyable to play golf than to do other things, so I fell in love with it watching my dad. He played and my grandad played, and they got me really into the golf.
I enjoy the challenge of it. The constant keeping you on your toes. Each round and each day can be a little different. You go and play a tournament, it's never straight and narrow, it changes all the time. Keeping me on my toes and the aim for perfection – even though there is no such thing – you can't perfect the perfect thing, but that was what I fell in love with was trying to perfect golf and be the best.
We always cheer each other on. In high school I used to play a lot of sport and my parents were always there to support us. We are a sporty family, I have two elder sisters and we'd support each other. I'd go and watch them and my sisters, who know nothing about golf, would come and support me. It's really nice and they always support. It's nice to have them come and see and cheer me on.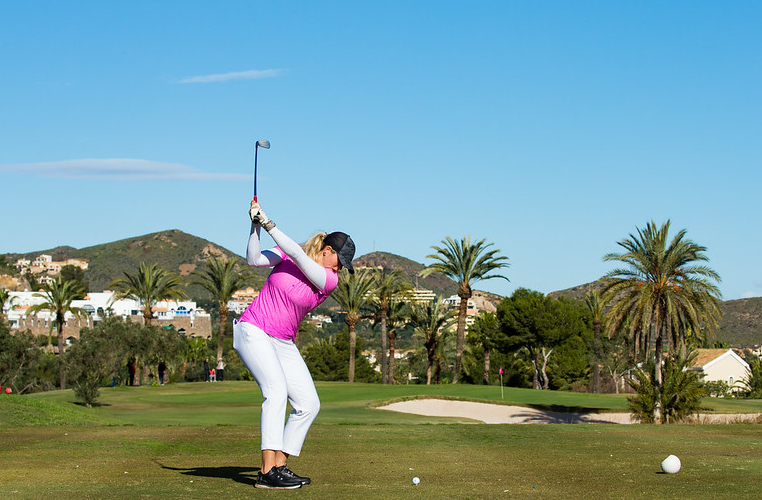 I loved my amateur career. I love playing in the UK and playing in Scotland. There were two highlights. The first was when I went to France and my mum caddied for me and I shot a course record of 65. It was horrible weather, terrible conditions with wind and rain, but it was a huge highlight and something that makes you want to keep going. The other is my grandad coming to watch me play at Royal Troon where my great great grandfather was a member and the captain.
Having mum there was a cherry on top. It was at the French International Amateur Ladies Strokeplay Championship where I broke the women's course record with a final round of 65. To have my mum on the bag, it was such a great moment. She was holding my umbrella and making sure nothing got wet. We were just talking about everything on the golf course and she kept me really calm.
It's once in a lifetime. Not everyone can say they've played the Old Course at St Andrews and shot seven-under-par. Gavin Tullis, who is my caddie now, was also my caddie that day and I wasn't feeling very well but he just said to go and play. I made putts and I put stress on my parents – my dad walked off in the distance because he was getting nervous and my mum was strolling around! The weather wasn't too great, but I kept making birdies. It means a lot to my grandad to say his granddaughter shot seven-under on the Old Course. I was speechless when I did it.
It was just the right time for me. I felt like as an amateur there was only so much I could do. I spoke to my parents, and my coach, and those who are close with me. I said I think I'm ready and my family agreed with me and it felt like the right time to turn professional going into the LET Q School. It felt like the right time. It all worked out.
They're my comfort blanket. My coach, my mum and my caddie all came to Q School. We rented a house and had a ping pong table, to have something to do off the golf course was good for me. Q School is a very stressful time for anybody, and I played the first nine holes terribly. I was six-over through nine holes and my caddie said to me it wasn't what we came here to do and I turned it around. On the back nine I shot three-under and then it all went from there, I had the momentum from that back nine where I played well. I really enjoyed the whole experience, it was a stressful time, but I had the three very important people to me there to help me through it and it made the process easier.
I had never been in a position like that before. Every type of emotion came when I secured my card. I was happy because I had done it. I was speechless. It was a really surreal moment. My caddie asked me on the last hole 'do you know what you've just done?' and it really hadn't hit me, it was such a surreal moment that it did take me a while to think I'm playing full card. It was very weird, but it was an exciting time. I still cherish it to this day. It still sits at the back of my head like wow we actually did it.
I learnt so much last season. I really enjoyed being able to travel to all these different places and learning how to be a pro. No one gives you a manual on how it's done! I probably didn't have the season I expected but from it I learnt so much. In the last couple of tournaments that I played towards the end of the season, I started to play a lot better. You've got to learn how to be a pro and it's not the simplest of things. I really enjoyed it and met so many nice people on Tour. I enjoyed my first year and I'm really looking forward to this year and seeing everyone again and start competing and just starting life again.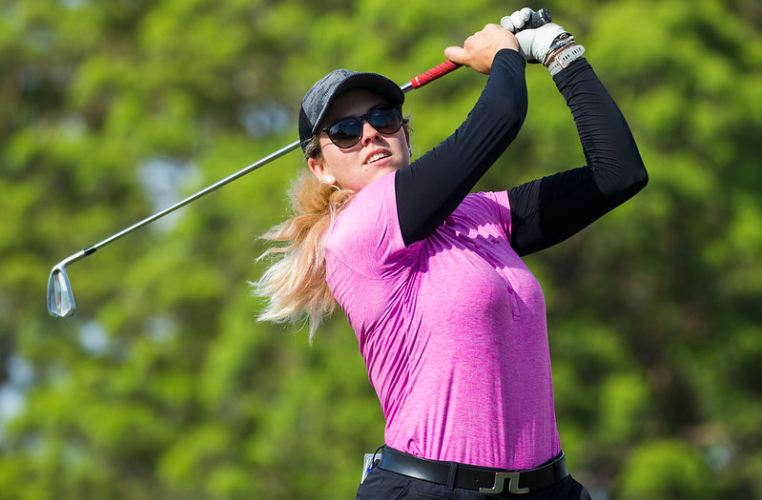 I'm a huge fan of Jack Nicklaus and Annika Sorenstam. My grandad and my dad showed me videos of Jack when he played golf as someone who has won the most majors, but I'm also a huge fan of Annika. They're the two types of people who have dominated in golf and won the most majors and it's something I really look up to. They dominated where they needed to and showed this is how you win. That's what I want to do when I start to get more into being a pro, winning majors and winning tournaments is a huge thing, but playing on Tour is a step in the right direction.
I'm really looking forward to the future. Golf is a process of going to tournaments, competing, and winning. Moving up in the world rankings is what you want to do and getting into more tournaments and majors. That is a huge thing for me to be in tournaments contending and moving up in the world. My two grandads always say they want to see me on TV and that will be nice when they can. Something else I would always want to achieve is getting into the Solheim Cup and being in that team competing against the Americans. It's match play and I love match play! It would also be a great honour to get into the Olympics, but I'll have to wait and see and keep working hard and dedicating myself.
Quickfire Q&A
Who is your hero? My parents.
What makes you happiest? Eating food.
Best travel buddy? My caddie.
Desert island dish? Hawaiian pizza.
Golfing superstitions? If I play well with a certain marker, I won't change it for the rest of the tournament, so I'll play with the same colour.
What is your most treasured possession? My 21st birthday bracelet.
What would you sing at karaoke? Poker Face by Lady Gaga.
Favourite Course? Old Course at St Andrews.
Dream fourball? Rory McIlroy, Tiger Woods and Annika Sorenstam.