Irish amateur Sara Byrne came into her first two professional tournaments in full force on the LET Access Series (LETAS).
The 22-year-old received invitations to two of the co-sanctioned events with the Ahlsell Nordic Golf Tour, the Vasteras Open by Elite Hotels and the Capio Ogon Trophy and showed she meant business placing sixth and twelfth respectively.
Reflecting on these events, Byrne said: "I had no expectations, I think that helped me to play freely.
"My goal for the two weeks wasn't to come out with wins, it was to gain a lot of experience in professional tournaments.
"I asked millions of questions especially to Hannah McCook, as we played all three rounds together, so big thanks to her. I now know I 100% want to turn professional."
Now, the feisty Irish player has a chance to impress home crowds at the KPMG Women's Irish Open this week.
Speaking about the opportunity Byrne said: "Coming away from the two LET Access events has definitely given me a lot of confidence. I'm really looking forward to it but I won't have too many expectations.
"I'm going there to enjoy the moment and I think playing in front of home crowds will be pretty amazing."
So before Byrne tees it up at the prestigious Dromoland Castle, we caught up with her to find out more about the Irish player….
A Family Affair..
Byrne, like many professional golfers, got into the sport through her dad who played a high level of amateur golf.
The golf course was Byrne's version of a park playground growing up but eventually she picked up the clubs and never looked back.
"My dad would bring me along with him. I used to play in the bunkers. Then at the age of 10 I started to compete and I absolutely fell in love with the game."
Byrne has a close bond with her dad, Derek, who caddied for her at the two Swedish events.
"He is 100% my biggest supporter, he's always there for me by my side no matter what. I wouldn't be where I am today without him. He's always pushing me to be better and I can't thank him enough for what he's done."
'A Man's World'
At the start of her golfing journey, Byrne recalls being mainly surrounded by male influences but attributes that experience to making her better.
"Definitely growing up, there weren't really that many girls in my club. I think it hardened me in a way. The boys were always older, stronger and they played fearlessly. I think that helped my game growing up."
Byrne now wants to use her position to help influence the game for young girls in Ireland.
"I would love to see the game grow more, especially in Ireland, and see more young girls playing.
"When young girls play in my club I will always try to support them. A lot of the girls slip through the net when they are 12. When I turn professional I would love to help promote the modern game, show how fun and fashionable it is."
Outside of golf?
Byrne has always been into sports but golf wasn't always the priority. Another love of Byrne's is Formula One, especially Daniel Ricciardo.
"I love Formula One and race cars. When I was younger that was my dream. When I was five or six I wanted to be a race car driver.
"However it wasn't in the family and I think my Dad was a bit more keen on the golf stuff."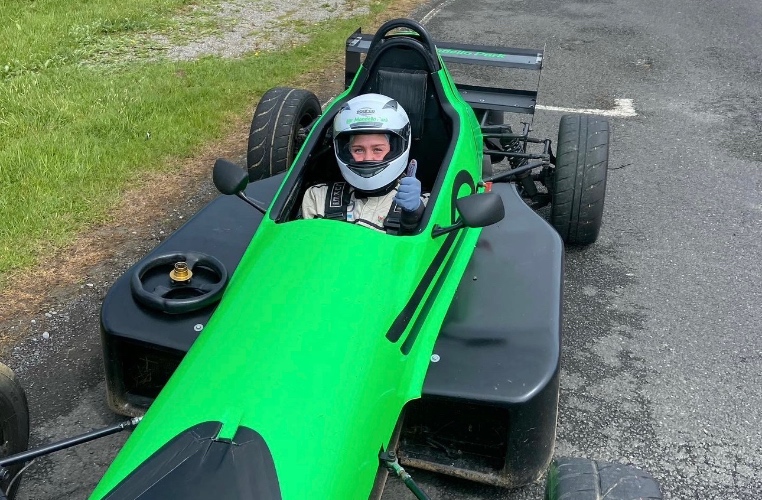 Byrne's college experience
Byrne accredits two-time LPGA winner and 2023 Solheim Cup player, Leona Maguire to her dream to study in America.
As she rose through the amateur ranks, the dream to secure a spot at an American university became a reality for Byrne when she got a college offer to study accounting and finance at the University of Miami.
Three years later, her time on the Miami Hurricanes women's golf team has been a resounding success with Byrne wrapping up her third year in the US with a solid performance at the NCAA National Championship.
Byrne was one of only nine individual golfers who qualified for the finals in Greyhawk Golf Club in Scottsdale Arizona.
"Moving to Miami was definitely a culture shock from Douglas, I have an amazing friendship group with different athletes from different teams such as the volleyball team, the soccer team and the tennis team.
"Choosing accounting and finance has definitely motivated me more," Byrne admitted, "I don't want to fall back on it, it's a good degree to come out of college with but I'm hopefully not going to use it."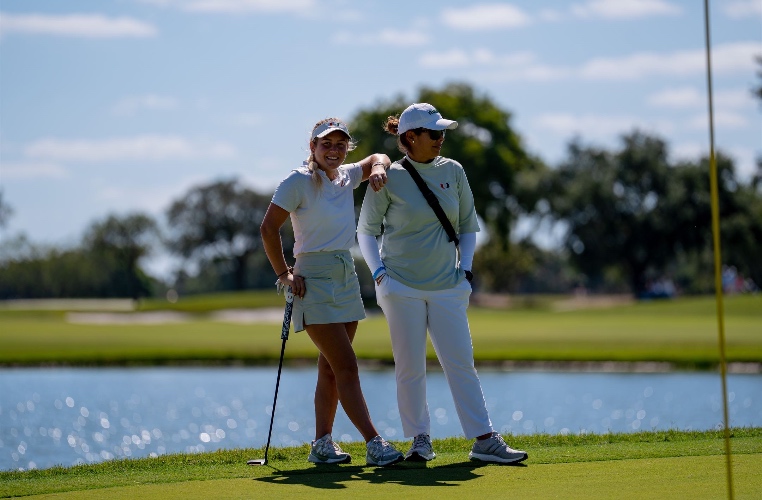 Quickfire Q&A
BEST MOMENT IN GOLF?- "Winning the Irish Women's Close Championship for the second time. It was amazing to celebrate with my family and friends in Douglas"
DESCRIBE YOUR GAME?- "I feel like the best part of my game would probably be like my arms and my ball striking."
DREAM FOURBALL?- "Nelly Corda, Tiger Woods and Michael Jordan!"
FAVOURITE SNACK ON THE COURSE? – "We call it Apple Sauce in America, but it's basically baby food. It's not everyone's cup of tea but it's so easy to have and it fills us for a few holes."
FAVOURITE PLACE TO VISIT?- "New Jersey and favourite place to travel for golf would be San Francisco, but I love seeing all sorts of different faces wherever golf takes me."
THREE WORDS TO DESCRIBE YOURSELF?- "Outgoing, talkative and bubbly."