New Zealand's Momoka Kobori and Germany's Patricia Isabel Schmidt (pictured above) both fired an opening round of four-under 69 to share the early lead at the Hauts de France – Pas de Calais Golf Open.
The co-sanctioned event with the men's Alps Tour sees two separate tournaments take place with two leaderboards and prize funds at the Aa Saint-Omer Golf Club in the north of France.
Kobori, who won in her first European start – also in France – only three weeks ago, set the initial clubhouse lead at four-under-par.
"I guess France is my lucky country so far. I'm really enjoying the course, it's definitely a little bit of a hike up but I am looking forward to these next couple of days," commented Kobori, who produced her seventh under-par round on LETAS.
The Kiwi had a slow start on day one, dropping a shot on the par-three fourth hole but soon bounced back to sign for the best score of the round.
"I stayed patient, especially with the rainy conditions, and I hit a lot of greens, so I managed to give myself some good opportunities," she continued.
"With the weather change, the big thing for me is taking everything into consideration and thinking about how the rain changes the course. Then I just commit to my shots."
Kobori brought herself back to even-par with a birdie on the par-five seventh to make the turn in 36 strokes and gained momentum for the rest of her round.
The 23-year-old who sits in second place on the LETAS Order of Merit had a solid back nine carding five birdies and one bogey to put herself in contention on LETAS again.
She added: "The first birdie was funny because I already had my three-wood in my hand and was ready to go for the green but changed my mind at the last moment. I ended up laying it up and then hitting it to six feet and still managed to make that birdie."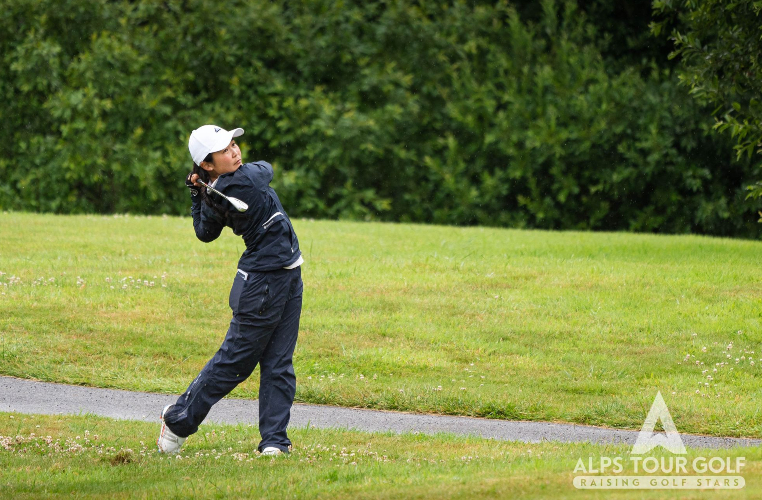 It was a similar story for Schmidt, who also dropped a shot early on but swiftly erased it with a birdie on the par-four fifth and followed that with an eagle on the par-five seventh.
The German made the turn in 34 strokes and continued her great game on the back nine with three more birdies, before dropping a shot on the last hole to put herself in the co-leading position.
"After a solid drive on the seventh that put me in a great position, I hit a six-iron into the green to about three meters, so that was really nice to make that putt," said Schmidt, who finished as runner-up at the Flumserberg Ladies Open earlier this season.
"I'm quite happy with my game. I used the par-fives to my advantage but overall, I was just focusing on each shot and sticking to the game plan I had in my yardage book,"
Scotland's Hannah McCook is in outright third place after shooting a 70 (-3), while a trio of players are tied for fourth with Northern Ireland's Victoria Craig, Spain's Clara Moyano Reigosa, and Dutch amateur Lauren Holmey all carding an opening round of two-under-par.
Another amateur Maria Theresa Licka sits in solo seventh while five players share the eighth place at even-par.
Australia's Stefanie Hall, England's Ellie Gower, and Gemma Clews, and France's Yvie Chaucheprat and amateur Lilas Pinthier all round out the top 10 after day one.
In the men's competition, where players play the course as a par 71, Frenchman Edouard Espana leads the way having shot a 68 (-3).
The men's leader commented: "It was not easy today with the rain and the pin positions weren't easy for a first round.
"I didn't make any mistakes with my long game, on this course you need to focus on hitting the correct parts of the greens and forget the pins, which is what I did today. My short game was crucial for putting together my score."
Espana is followed by a trio of players with his compatriots Franck Daux and amateur Julien Sale one stroke back, alongside Italy's Andrea Saracino.
The second round continues Friday at 7:30 CET with the first LETAS group teeing off at 7:41 from the tenth hole.
Follow all the action @LETAccess on Instagram and Twitter – #RaiseOurGame.