After an excellent amateur career, Sara Kouskova secured full status on the Ladies European Tour (LET) for the 2023 season in October of last year.
The Czech golfer won both the Order of Merit and Rookie of the Year titles on the LET Access Series (LETAS) after tallying 2,592.18 points from 10 events.
Kouskova, who won her first professional event at the 2021 AMUNDI Czech Ladies Challenge while still an amateur, first picked up a golf club at quite an early age thanks to her dad and hasn't looked back since.
"I was around five or six years old, and my dad brought me to the game," she said. "My earliest golfing memory was in the fall of 2005, and I managed to win my first little tournament on a chip & putt course. It was an incredible moment, seeing my parents happy was so special.
"I have many amazing memories as an amateur. Competing at the European Team Championships, British Amateur, Augusta National Women's Amateur, and team events with Texas Longhorns, it has been an amazing ride and I am truly grateful.
"I don't remember the exact time when I became fully committed to golf, but I remember I had the drive and dedication quite early on.
"I was always dreaming about becoming a pro, trying to be the best in the world and a good representative of the sport, to have a positive impact so I just keep working towards that goal."
The Czech player attended LET Q-School in December of 2021 and did extremely well finishing in outright sixth place while still an amateur.
Despite securing status on the LET, Kouskova decided not to take up membership and instead finish her education in Texas and complete her final NCAA season, but it was a decision that didn't come lightly.
After graduating from the University of Texas at Austin in May of 2022, she immediately turned professional and began her first full season on LETAS.
She explained: "The decision to turn pro came very naturally so after finishing my degree in Texas I became a professional.
"It was planned for at least a year and a half that this would probably be the case and it felt like the right time afterwards.
"There were some serious temptations to turn pro earlier especially after earning my LET card at Q-School 2021, but I was one semester away from finishing my studies, so I decided to finish school and the season with the team there first."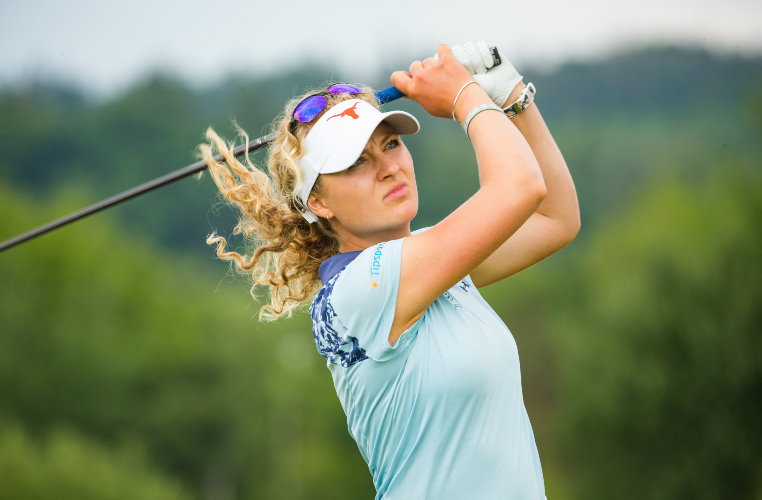 It was a strong start on LETAS for the then 22-year-old as she finished second in the AMUNDI Czech Ladies Challenge – the tournament which she had won one year prior.
A top 10 at the Trust Golf Links at Musselburgh GC saw the Czech star find her feet and she clinched her second LETAS title one week later at the Santander Golf Tour Malaga.
But it was later in the summer where Kouskova really pushed on finishing fourth at the Goteborg Open before winning the Elite Hotels Open at Jonkoping Golfklubb.
Another victory came the 23-year-old's way at the ASGI Lavaux Ladies Open before she rounded out the year with T3 at the Rose Ladies Open and T2 at Santander Golf Tour Burgos.
She added: "Last year on LETAS, I feel I learned so much about the new role of being a professional golfer, travelling with the Tour and handling the responsibilities that come with that. It was a lot of fun doing so with so many great people around!"
Quick Questions
What Do You Love About Golf? I Love When I Can Hit The Ball Into The Blue Sky, It Never Stops Amazing Me.
What Are You Looking Forward To Most About Next Year? New Venues, New People, New Countries, I Look Forward To The Whole Process.
What Are Your Future Dreams And Aspirations In Golf? I Would Love To Play At The Olympics And Solheim Cup, Bring Joy To The People Around And To Have Fun Doing So.
Three Words To Describe Your Golfing Journey So Far. Joyful, Exciting, Committed.