French amateur Agathe Laisne continued her sensational run of form recording a five-under-par round of 67 to lead by one shot from current Order of Merit leader Tiia Koivisto at the Santander Golf Tour Lauro.
Looking to grab her second win of the year, Laisne headed to this weeks' season finale as one of the pre-tournament favourites and continued to show why she is one to watch for the future making six birdies and a solitary bogey.
"It's perfect weather for golf and the course is in really good condition. It is quite tricky so I am pleased with my score, there are a lot of difficult layup shots but also a good number of wedges, which I like."
Playing in only her third LETAS event, having captured a win on her debut at the Lavaux Ladies Open and a T4 place finish last week, the 21-year-old seemed unflustered by the fact that she's one of 20 amateurs in the elite 90 player-field.
As per last week, Laisne has been using her time off the course to revise for her upcoming finance exams as she prepares to start her final year at The University of Texas. Steadfast in her commitment, the overnight leader will tee it up tomorrow at 1.17pm before rushing back to her hotel to sit her 'finance valuation module' at 7.30pm.
"I will revise all night today and then maybe a little bit in the morning to make sure I am ready. My friends and family are so supportive of what I m doing at the moment and It is tough to do both golf and study but I am somehow finding a way."
She added, "With their support I feel comfortable and I was able to see how much they did for me during lockdown when I was with them every single day."
Trailing her by a stroke after a round of 68 (-4), is the hard-working Finn Tiia Koivisto, who currently leads the Order of Merit by more than 3,000 points.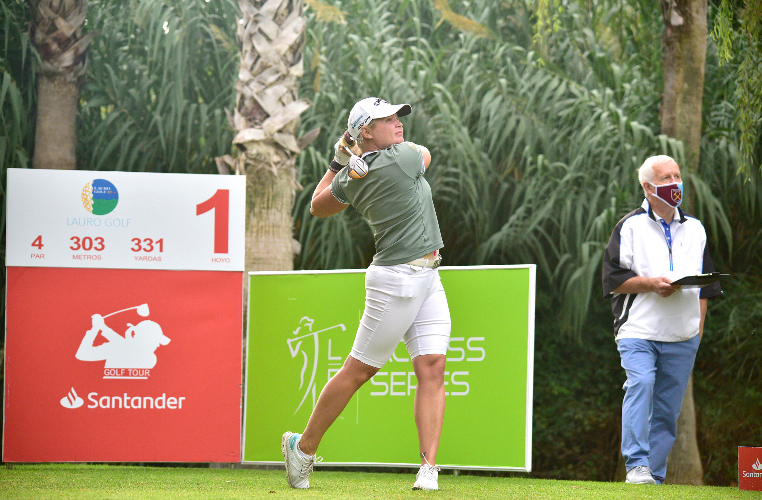 In what also seems to be another LETAS trend for 2020, Koivisto made as many as six birdies in her day – recording her seventh round in the 60s in the process from only 13 efforts this season.
Talking about the secret to her success, the 26-year-old said, "I have been hitting it pretty good all season and the lower scores just seem to come when the putts go in. I just want to try and keep winning tournament and it would be a nice bonus to win the order of merit."
The winner of the season-long Order of Merit will receive a full LET card and as it stands, Koivisto is set to improve her current tour status.
England's Georgina Blackman sits in T3 at three-under-par alongside the top-placed Spaniard Marta Llorca.
Keep up-to-date with the leaderboard and draw for round two – HERE
Follow all the action @LETAccess on Instagram and Twitter and LET Access Series on Facebook – #RaiseOurGame @santandergolftour