Elena Moosmann maintains the lead by three shots heading into the final day of the Flumserberg Ladies Open.
The overnight leader who started on hole 10 kept calm to shoot a round of 72 (par).
Moosmann played consistently, shooting 16 pars in a row. A bogey on hole eight didn't blot her scorecard as she birdied the ninth.
"I just played really solid today," Moosmann said, "I hit all the fairways, had some great iron shots but I just didn't hold any putts. There was one bad shot on hole eight but the rest I'm very happy about.
"Tomorrow, I hope I hold some putts."
The 21-year-old won the tournament back in 2019 as a 17-year-old amateur, having tied with Austrian amateur Isabella Holpfer after 36 holes of stroke play and then defeated England's Hayley Davis 1-up in the final round of match play.
Moosmann is hoping to use her experience to capture victory number two this week.
"I'm very excited for the match play tomorrow. It has been a long time since I played in a match play, so I'm looking forward to it.
"Tomorrow the goal is to win it. Now I will practice a bit and just chill as well.
"I will keep my tee shots the same, keep it on the fairway but depending on how I'm feeling I will play a bit more aggressive and just hold the putts!"
Three shots behind Moosmann lies Spain's Clara Moyano Reigosa, Denmark's Sofie Kibsgaard Nielsen and England's Katrina Gillum on one under par.
LETAS rookie Sofie Kibsgaard Nielsen had an impressive start to the season ranking joint second at the Santander Golf Tour-GIRONA.
The 24-year-old is excited to be back at the top of the leaderboard going into the final day.
It was a rollercoaster of a round for the Dane as she started with a double bogey off the first tee.
However, she kept her composure to card three birdies, two more bogeys and an eagle on her last hole to give herself a strong position going into tomorrow.
"I didn't start off well," Kipsgaard Nielsen said, "I started by shanking my first shot of the day into the hazard.
"I knew I just had to stay patient as a lot of people were going to double bogey today.
"I only hit one driver today on hole nine. Yesterday I played well but had two lost balls, so I figured out I needed to hit irons off the tee as my long game is solid right now.
"I enjoy match play, so I think tomorrow's going to be intense but fun.
"Today I played a bit defensive but tomorrow I can be a bit more aggressive as it won't matter as much if I hit a lost ball.
"I look forward to it and I'm just going to play my golf."
Alongside Kibsgaard Nielsen is the 2021 Santander Golf Tour Order of Merit winner Clara Moyano Reigosa.
The Spaniard had a consistent front nine carding all pars except for a bogey on hole six. Two birdies and two bogeys on the back left her on 73 (+2)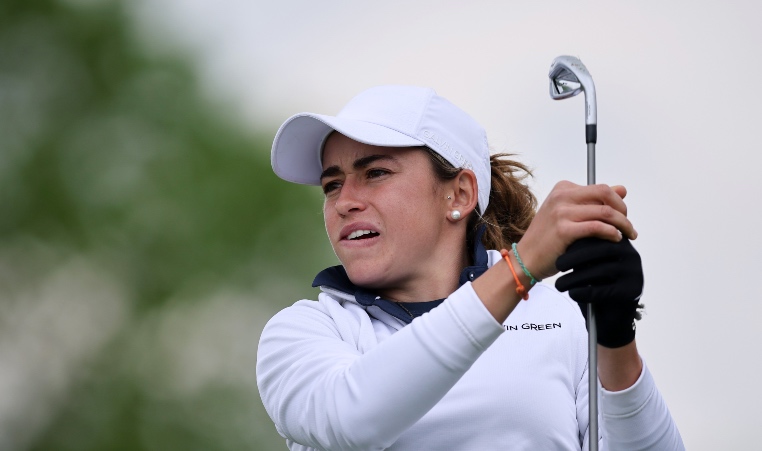 "Today was a little rustier than yesterday," Moyano Reigosa said, "It was a little windier and I wasn't feeling as comfortable as yesterday.
"I made a bogey on my sixth hole again, but I kept going and a birdie on the 11th made me more confident. My game got better throughout the day."
The 24-year-old has had one top-10 finish on LETAS when she came third at the 2022 Terre Blanche Ladies Open and is excited to be back at the top of the leaderboard going into the final day.
"Match play is a whole different format, I'm going to stick to my game, stick to my plan and if I must change anything depending on the conditions or what the other person does on that hole I will.
"But the last two days has been working so I will stick to my plan and see how far it takes me.
"To win my first LETAS event would mean a lot, last year was a little rusty toward the end of year.
"Since then, I have had new coaching and made technical changes. So, starting to see things clicking means a lot.
"If by the end of the week, I get the win, it would mean everything."
48 players made the cut which stood at +6 for Sunday's final round.
Tomorrow's action gets underway at 7:45am local time.
Sunday will see three nine-hole rounds of match play with the top six from the first match play round advancing to the semi-finals.
The top three from the semi-finals will advance to the final where they will compete for points to win the title.
FORMAT
Maetzler Mix
Friday and Saturday: 36 Holes Stroke Play, Cut 48 Players (no ties)
Sunday: 3 x 9 Hole Match Play
PURSE
€45,000
SOCIAL MEDIA
Follow all the action on @letaccess on Instagram, Twitter and TikTok and LET Access Series on Facebook – #RaiseOurGame. #Flumserbergladiesopen
PAR AND YARDAGE
3191 yards/2919 metres (Subject to Change)
PAST CHAMPIONS AND RUNNERS-UP
2022: Lauren Homey (NED) & Patricia Isabelle Schmidt (GER)
2021: Nina Pegova (RUS) & Charlotte Back (GER) (a)
2020: Sanna Nuutinen (FIN) & Stina Risen (NOR)