Germany's Chiara Noja is a rising star in the world of golf having turned professional last year at the age of just 15.
One year later and the teenager has since clinched her first professional win on the LET Access Series (LETAS) and secured playing rights for the Ladies European Tour (LET) for 2023.
"I started playing when I was around three years old," she said. "My parents were keen golfers and eventually, I came along to their golf outings.
"I was rather infatuated with learning how to drive the buggy so I'm sure that consumed me for a while, but once I got bored of that I tried playing golf.
"It was never my parents' intention to be honest, as I was more focused on ballet, horse riding and tennis for the first few years, but I guess the sport got me hooked and here we are!
"I think especially when you're younger there is no real recognition of whether you're good or not, so I think my 2018 season was one of the first signs that I actually was pretty good at what I was doing when I won the Scottish U12 Girls Championships, shortly after finishing second in the Ladies County Championships. Moments like that motivated me to keep going and let me dream of what I could one day achieve in the sport."
But despite finding a love for the sport, there was a time a few years ago when someone told the youngster that golf might not be the sport for her.
"One of my favourite memories of golf was at the 2015 ISPS HANDA Ladies European Masters at Buckinghamshire Golf Club," she explained.
"I remember going to one of the YONEX fitting bays for a bit of fun and hitting a few drives. For context – it was a very narrow mat with metal edges that wobbled a little when you swung.
"I guess I slipped in one of my swings and managed to hit the face on that corner and cracked it! The fitter grabbed it out of my hand, and before showing me the exit explicitly told me 'I don't think golf is for you'. I love the irony of it now and always find myself laughing when I think back to it."
The Covid-19 pandemic affected different people in different ways and for Noja, it accelerated her journey to professional golf.
With many amateur events being postponed, the rising star decided to play on LETAS in 2021 and made her professional debut at the end of the year on the LET.
She continued: "After several wins and top finishes in amateur championships, at 14 I became an England National Squad Member. Shortly after Covid hit, which never let me have a full amateur career to the extent I might have wanted, and amateur events were cancelled.
"With travel restrictions all over the world, I got the opportunity to compete on LETAS in 2021. I narrowly missed my first professional win at the Golf Flanders LETAS Trophy that year and gained some experience with Tour life and more insight into what professional life could look like.
"Covid really exposed my goals more clearly, and with all those starts on LETAS as well as my LET event debut, there was a lot of learning and evaluating done that allowed me to process all the experiences of 2020 and 2021.
"Having also come close to winning professionally for the first time, all of this inspired me to play professionally, rather sooner than later. The final decision to turn pro however was triggered by three event invites – the Aramco Saudi Ladies International, Aramco Team Series – Jeddah and Dubai Moonlight Classic.
"I was so looking forward to competing against a field of such class and couldn't imagine going back to the amateur game, it would have felt like a step back. So, I decided to make my pro debut at the Dubai Moonlight Classic and have enjoyed life on Tour ever since."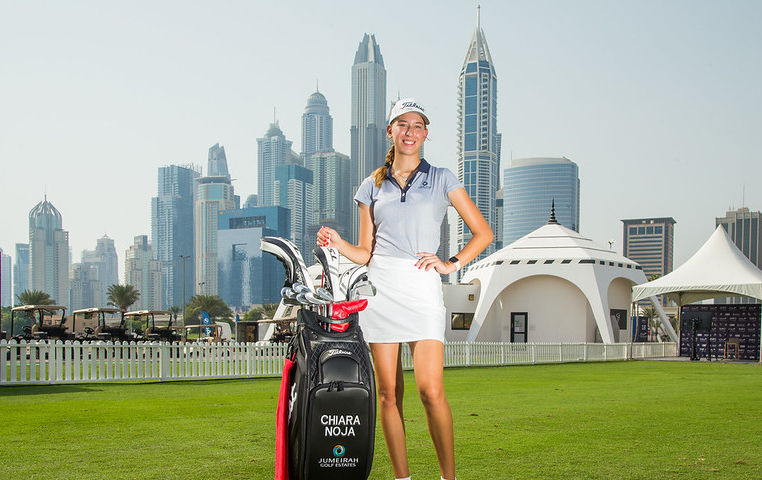 Noja finished second in the Order of Merit with 2,217.98 points from 13 events thanks to her victory at the AMUNDI Czech Ladies Challenge alongside nine top-10 finishes and two top-15 finishes.
But playing on 2022 in LETAS also allowed the 16-year-old to experience different situations during golf tournaments and prepare her for life on the LET.
She added: "I think one of the key lessons LETAS taught me was learning to be comfortable with being chased rather than being the chaser.
"My season got off to a good start, so I was leading the Order of Merit rather quickly, with a second place after a playoff in my first LETAS event of the season and my first professional win shortly after. It's more pressure to be in that number one spot for sure, but it taught me how to perform under pressure and seize opportunities better."
Quick Questions
What Do You Love About Golf? I Love The Mental Aspect Of Golf, And The Way It Always Manages To Humble You.
What Are You Looking Forward To Most About Next Year? I'm Really Looking Forward To New Courses, A Schedule That I Can Tailor To My Academic Schedule, But Mostly, Competing Against Some Of The Best Players In The World. I Will Also Be Playing My First Major Next Year, Which Is A Goal Come True.
What Are Your Future Dreams And Aspirations In Golf? I Want To Be The Best Player In The World, But Most Importantly, The Best Player I Can Be.
Three Words To Describe Your Golfing Journey So Far. Patience, Frustration And Fun.