Dutch golfer Pasqualle Coffa first played on the LET Access Series back in 2018 and recorded her best finish (T9) at the Skafto Open 2019.
We caught up with Pasqualle to find out about her 2021 goals, how Covid-19 impacted her, what it would mean to secure her LET status and much more.
How did you start playing golf?
I was around 16 years old, I started my first lesson in Portugal with my dad. He always liked playing and he also started quite late. He said to me 'let's go to the course and try and hit a few shots' and it went well on the driving range. We were really enjoying it so we took some lessons while we were on holiday and the guy who was teaching us said I had a good feel and he thought I could be good. At that time, I was riding horses and I was quite competitive, but I liked golf so much I made a decision to put the horses to one side. It went quite fast from starting quite late to then by 18 deciding I wanted to do this.
What did you love about golf?
I love hitting the ball itself. The fact you can fly it quite long and the shape on it and that you can really play, but also the competitive side. The fact that it's you against the golf course. I've never been good at team sports because I was always blaming myself and others whereas this is just you and your head against the golf course.
How did you find out about LET Access Series?
I had some contact with Anne Van Dam, she's a good friend and she played on the Access Series before. She said to go and play the events and see how it is and if you like it. Sometimes on the amateur events with my world ranking I didn't get in and I did want to play competitive golf, even if it's a pro field. I really liked it!
How did you feel after your T15 at the Bossey Ladies Championship?
As an amateur, I always thought if you want to be a professional then you have to act like one. I set my own goals and played against the course, it's not about the field, it's just about you against the course. That's what I did, and it was fun and cool to see I was at that level. That really showed me that I was good enough and I just had to finetune a few things.
How did you find your first professional season?
I played Q School in 2018 in December, and I earned my 9B category for the LET. I played some events on the LET but not enough for a full schedule, so it was nice to have LETAS and have your first season as a pro to see how it is. I really liked it – the travelling, meeting new people and new friends.
How did Covid-19 impact you?
Covid-19 helped me get my mindset straight after I didn't make the Final Qualifying at Q School. I got some time for myself and figured out how I was going to improve. I put the work in, but the results weren't coming. I made some decisions such as a new coach and it was a fresh start. I'm really enjoying it. Communication is very good. I feel like everyone is on the same page with me. I think that's the most important thing to finally trust what you're doing and your own game.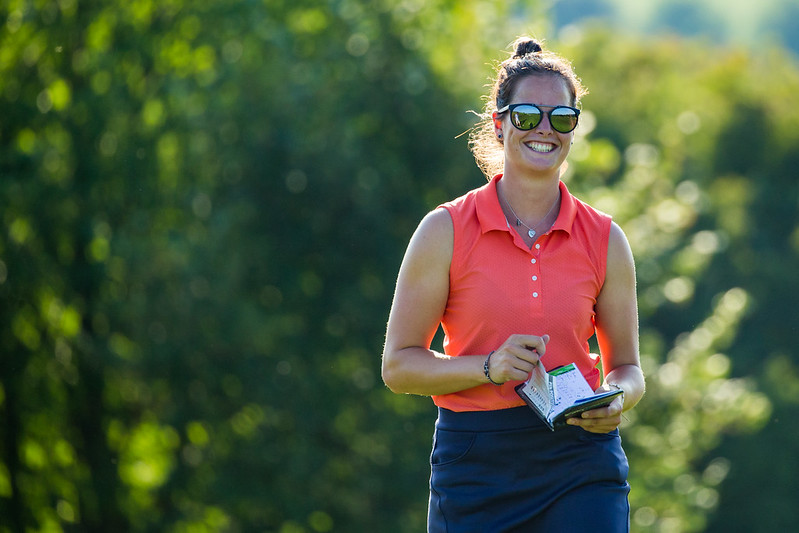 What is the strongest part of your game?
I think for now it's my putting and my short game which was the opposite way in the years before. I think that's because of the time I've put in and all the drills that I've been doing to make it better and better.
What are you goals for 2021?
I find it hard to set real goals because you have to believe you can do it, otherwise goals are just dreams. My main goal is always going to be to get full status on the LET. I also want to own my own game. It's just me against the golf course and me not being worried about anything else. Also just working on myself, focusing on what I can do to play better – that's what I'm trying to do.
What would it mean for LET card?
I really want it. I want it so bad. I've got some friends on the LET already and on the Sunshine Tour I played a few rounds with Lee-Anne Pace and she told me to get my mindset ready because she thinks I hit the ball great and that I belong there and it's just a matter of time. Hearing that from a player who has such experience and really means it is great. I think that's my next step is to really believe in yourself.
What are some of your career highlights?
I was proud of my first Q School experience; I was 14th or 15th in my first stage and then shot a good round to go in the top 60 to go in the final stage. I was quite proud of my top-10 on the LETAS at Skafto Open in 2019. I was proud of that one because I was playing well and finally got three rounds together where I played solid golf.
Who would be in your dream fourball?
Myself, Rory McIlroy, Tiger Woods and Anne Van Dam. I think that combination would be great.
How important has Anne Van Dam been to you?
I think she's been quite important my whole career. We keep in touch and there's been a few times when I've asked her for advice, and she's been able to give it because she's been in the same situation before.
If you weren't a golfer, what would you be?
That's difficult! I like to go to the gym, and I have been to a school where you learn teaching so something in the gym teaching-wise or a trainer. I wouldn't be a golf teacher, but I could be a trainer.
What would you say to someone who wants to play on LETAS?
I think it's great to see how your game is and figure out how you like to travel with events all over Europe. It gives you great and experience. For me it was special to have that experience and see the professional girls and what they're doing. I really learned from seeing them practice and watching them from far away.