One word comes to mind about Anna Magnusson's 2022 season on the LET Access Series.
That word is consistency.
The Swedish golfer secured her LET card for the 2023 season by finishing sixth on the LETAS Order of Merit.
Magnusson, 28, had a solid year with seven top-10 finishes and four further top-15 results to give her 1,425.26 points from 17 events and clinch sixth spot.
Whilst 2022 was a stunning season it came off the back of a tough 2021 for Magnusson.
"2021 was a tough year for me," Magnusson said, "I was struggling in golf and outside golf, and I didn't do well at Q school, I then had a chat with Ana, Tour Director of LETAS, who encouraged me to play on LETAS and come back from the bad year.
"It was a good decision for me, I had a great year."
Securing LET status for 2023 was always on the cards for Magnusson.
"Yes, I did imagine I would be playing on the LET for 2023," Magnusson said confidently. "I was playing to win every tournament; I was so focused on my main goal and that was to get my card. My coach and I said let's play every week and see what happens and that's what we did.
"We didn't focus on the Order of Merit, then at the last tournament I saw my ranking and was like this is it."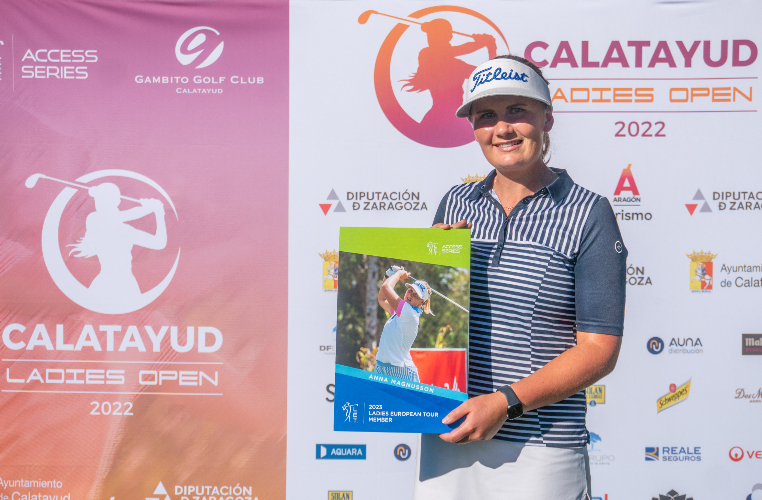 Magnusson turned professional in 2017, having graduated from Morehead State University with a degree in Sports Management but has played the sport since she was nine.
"I started playing at nine-years-old," she said, "Me, my mum and my brother started playing at the same time, our dad had played since he was 15 and he always wanted us to play.
"When I was younger, I always tried to beat my brother and now he just plays for fun.
"I have been working with my coach for 14 years now and he's been really supportive.
"When I think how much we put into it, he's been a big part of my golf.
"I think I've always wanted to turn professional, when I started college I started playing good, then I kind of had my mind on going pro but I wanted to finish college and get my degree and take it from there."
Magnusson has strong aspirations for her 2023 LET season which has started promisingly with a top-30 at the Magical Kenya Ladies Open and weekend play at the Lalla Mereym Cup in Morocco.
"Playing on LETAS has taught me a lot about playing to win," she said. "About how to take every tournament week by week and about travelling every week, playing every event.
"With nine weeks in a row, of course your body is going to get tired, and your mind is getting tired, you will want to stay in bed, but you can't because you need to play to win. 
"LETAS gave me a good lesson and now I'm taking it all in."
Magnusson has quiet confidence and a strong mentality, the Swede's continued motivation for the sport lies in her strong desire to always improve her game and get a win.
"I always want to be better" Magnusson said, "I always want to be better than yesterday.
"I want to say good luck to all the LETAS players, just know that everyone is a good player and can move up to LET level.
"But make sure you have fun, because I had a lot of fun last year and remember about playing to win."