It might not be how she envisioned winning her second title in three events but France's Agathe Laisne captured the Santander Golf Tour Lauro as the 2020 season finale finished with a washout in Malaga.
When tournament organisers called time on the third and final round of the week, the overnight leader was in the middle of the 12th fairway and as it stood, Laisne had been caught by last weeks' winner Luna Sobron Galmes and fellow Spaniard Marta Sanz Barrio at seven-under-par, despite opening with 11 straight pars.
Unable to continue due to rain and wind, the 21-year-old was awarded the title in a bittersweet moment.
"It feels so so cool to win. It's the best feeling. When I first played on the LETAS three tournaments ago I would have been happy with a top-10 but then I got a chance to win in Switzerland and I started feeling comfortable."
She continued, "It was a little odd not finishing my round and something like this has never happened to me before, but I felt like my game was in good shape today and I was confident that I would finish strong. I can't wait to play again next year maybe as a professional and try and earn some money to share with my friends."
As a result of the victory, Finland's Tiia Koivisto scooped the €5,600 winner's check due to Agathe's amateur status and romped the season-long Order of Merit.
Had Agathe Laisne been eligible, there would have been quite a tussle at the top but as it played out, Koivisto received the full LET card for 2021 – improving her current status.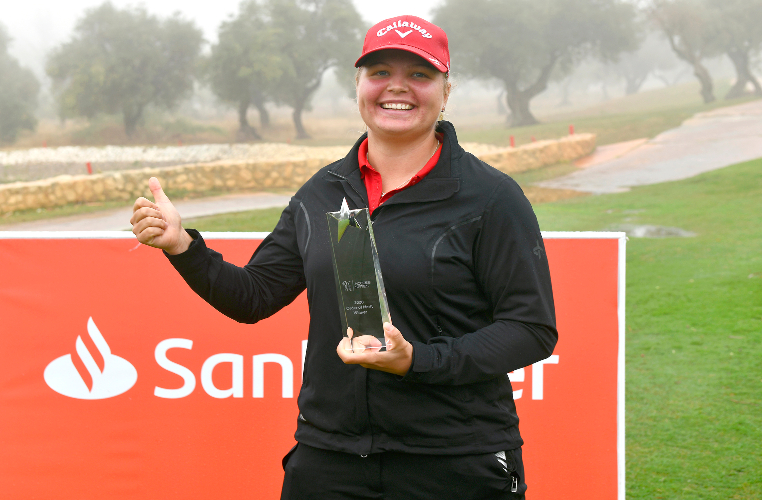 Speaking about the achievement, the 26-year-old said, "It feels amazing I think I was something like 34-under-par for the five events, so I have to be happy with that. Whenever you play that consistently in this game, you have to proud of yourself."
She continued, "The LETAS has done an amazing job giving us the opportunity to play this year with everything going on and I am looking forward to hopefully playing as well on the LET next year."