Last month, Germany's Patricia Isabel Schmidt secured her LET card for the 2023 season by finishing fourth on the LET Access Series Order of Merit.
The 27-year-old notched up victory earlier in the season at the Big Green Egg Swedish Match Play Championship and has two runner-up finishes to her name with second place at the Flumserberg Ladies Open and T2 at the Trust Golf Links Series – The Musselburgh GC.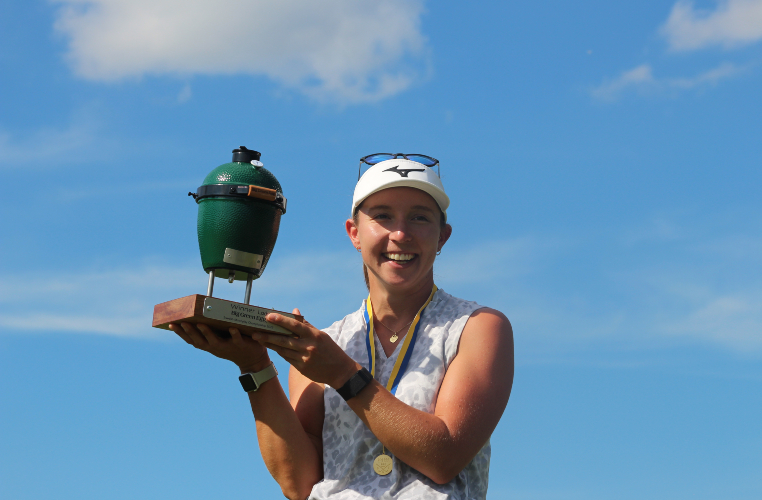 On top of that Schmidt had six further top-10 results to give her 1,967.97 points from 19 events and clinch her spot on the LET for next year.
Golf was not the only sport the German played when she was younger, but it was in her last few years of high school that she focused on it.
"The first time I played golf was at around 11," she said. "But at the beginning, I just went to the course once a week for the junior practice sessions.
"It took me quite a while to decide golf was the sport for me… I used to play several other sports like volleyball, swimming, soccer, tennis, and table tennis on a competitive level when I was younger.
"I think during my last two to three years of high school I really focused on golf with the goal to go to college."
The Goeppingen native only turned professional in 2021 having attended Armstrong State University for college and then she studied mechanical engineering at the University of Stuttgart and successfully graduated in 2020.
After that Schmidt focused on golf and gained some invites to LETAS events before playing 13 events in 2021 and 19 in 2022.
She continued: "One or two years after I came back from college, I was still doing my major in mechanical engineering in Germany back then, so I first wanted to finish my studies and then focus on golf.
For my amateur career, I would say my highlight is probably my third place in Luxembourg and the event where all Regions of Germany play against each other.
"Besides that, I didn't really play lots of big events, but I enjoyed playing every team event with my home club since you're usually a single player in golf."
While the engineering graduate also had a taste of the LET last year making her debut on Tour at the Didrikson Skaftö Open and finishing T38, she believes LETAS has helped her prepare for next year.
She added: "For my first LET event, I was super nervous, excited and happy. It was a week I will never forget! That week I really knew that that's what I'm fighting for on LET Access – to be able to play in events like the one I did in Skaftö every single week.
"I've learned a lot about my routine on tournament weeks and the amount of practice I can put in and still recover for the tournament round. LETAS really helped me to get used to playing several weeks in a row, managing my trips and mostly learning how to deal with situations when I get nervous."
Quick Questions
What do you love about golf?
I love that every week you see new courses, none of them look the same, and you can play it with everyone: every age, no matter what handicap you have got, you can play together.
2. What are you looking forward to most about next year?
All the new courses, new countries to travel to and the atmosphere on the LET.
3. What are your future dreams and aspirations in golf?
Play at the Olympics and of course who doesn't want to bring home a trophy from a major event!
4. Three words to describe your journey?
Fall – stand up – work harder.