Scotland's Clara Young and Czechia's Sara Kouskova share the lead after the first round of the Rose Ladies Open in Hertfordshire, England.
The first round of the tournament hosted by Justin and Kate Rose saw an eventful day with the co-leaders setting the pace at four-under 68.
Young, who teed off the tenth hole today had a steady start with seven consecutive pars that led to a birdie and an eagle on holes 17 and 18, respectively.
"I hit it close on 17 for birdie and on 18 I had like 200 yards to the flag, I wasn't sure whether to go for it but I did and then holed the putt, so it paid off," commented the Edinburgh native.
She continued: "I wasn't super great off the tee, but I recovered well when I missed a fairway, and then when I missed a green, I got up and down for the most part so that was good.
Making the turn in 34 strokes, the 26-year-old only dropped one shot today on the par-three second which she swiftly followed up with birdies on holes three and five.
"It feels really good to be in the lead although we're only through day one so hopefully I can keep it up for another two days.
"It's really nice to play sort of on home soil, not to have to get on an airplane and everything like that. I've got my boyfriend on the bag, and I had my mom last week so it's really nice to have someone with me."
Kouskova booked herself another day at the top of the leaderboard as she joined Young with a round of -4 on the first day.
Starting with a birdie on the first hole, the Czech star had a steady run on the front nine with a bogey on the fourth and another birdie on the ninth, making the turn in 34 shots.
"There was quite a lot of patience on the front nine today, a lot of good two putts and par saves I would say," said the four-time LETAS winner.
The 23-year-old then followed with an immediate birdie on the tenth and bogey on the 12th hole before carding three consecutive birdies on holes 13 through 15.
"The back nine was fine and fire, I had a couple of short birdies in the end which was very helpful to the score obviously.
"My caddy helped a lot today as my mental game was a solid part of my performance for sure. Even during the past events, the momentum has been good and patience is paying off."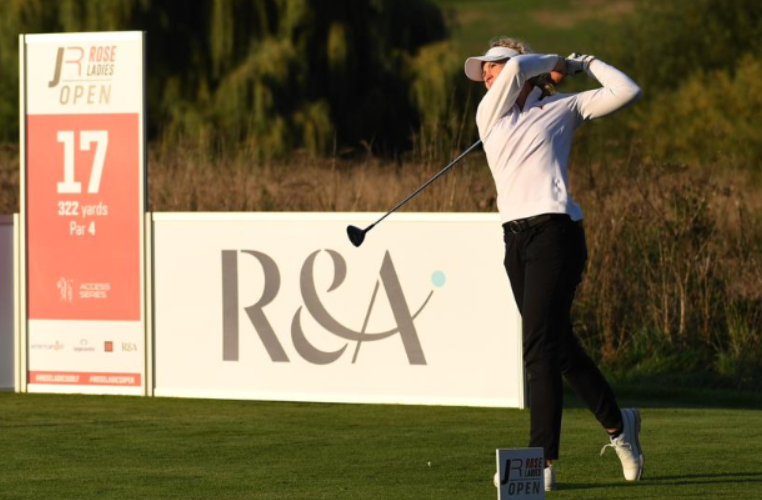 The Netherlands' Marit Harryvan originally set the morning clubhouse lead at three-under 69, making five birdies and two bogeys throughout her round and sitting one shot behind the leaders.
"I started solid on the front nine with not many mistakes and if I did miss a green I would make an up and down so my short game was quite good today.
"On the back nine it was kind of a struggle but I just hung in there and made a couple of good putts for par so that was nice to bring home a nice score."
Joining her in a tie for third is local rising star Amy Taylor who made seven birdies throughout her first round, including back-to-back ones on the two final holes.
Swiss amateur Vanessa Knecht shares the fifth spot with Spain's Noemi Jimenez Martin another shot back at -2 while three players are a further stroke behind.
Dutch player Nikki Hofstede and New Zealand's Momoka Kobori are in a tie for seventh place at -1 with England's Lianna Bailey who crowned her scorecard with an ace on the par-three ninth hole.
Six players round out the top ten at level-par 72 as English duo Eleanor Givens and Jae Bowers, Sweden's My Leander, Italy's Erika De Martini, Finland's Niina Liias, and Austria's Katharina Muehlbauer all share the tenth spot.
Bailey's hole-in-one was the second ace of the day as her compatriot Sharna Dutrieux holed out on the same hole only a few hours earlier.
The second round will start on Saturday morning at 8:00 local time. After the completion of 36 holes, 45 professionals plus ties will make the cut.
Follow all the action @LETAccess on Instagram and Twitter – #RaiseOurGame.